Dr. Rajamahendran with PM of Canada!

A memorandum of understanding was signed in Ottawa at the Prime Minister's Office, on November 29, 1997 between Caro International Trade and Investments Corp. and the University of British Columbia's Animal Reproductive Biology Group, headed by Prof. R. Rajamahendran. Both parties agreed to colloborate on projects that will engage in a breeding program utilizing UBC's expertise in embryo biotechnology for Caro International projects in the Philippines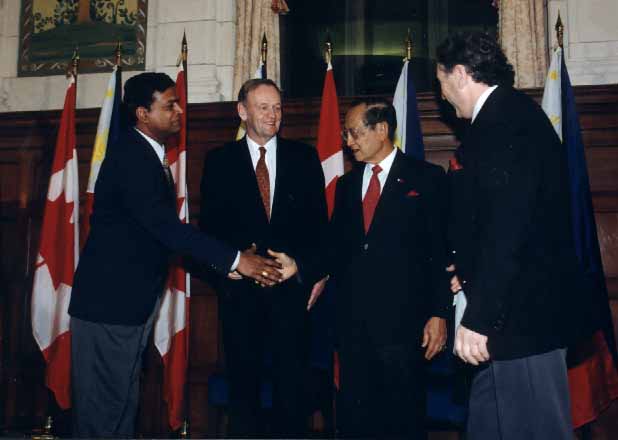 Left to right: Dr. Rajamahendran (Prof. at UBC), Jean Chretien (Prime Minister of Canada), Fidel Ramos (President of Philippines) and Andre Caro (President of Caro International Trade and Investments.
---
Dr. Rajamahendran and all other Dignatories were happy as we all do!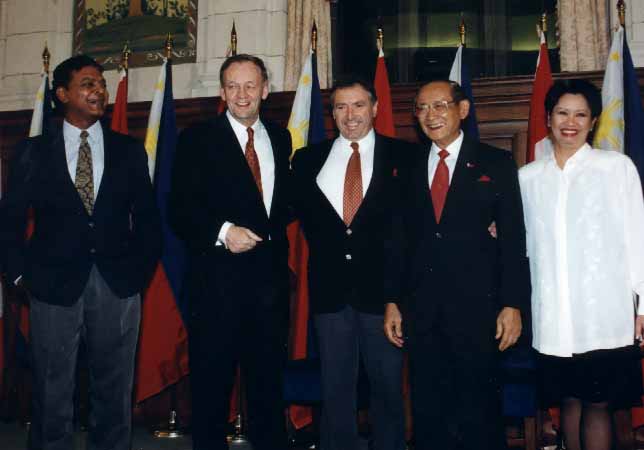 ---
Dr. Rajamahendran, Prof. at UBC, receiving the Award of Excellence in Genetics and Physiology. This award is presented to a member of the Canadian Society of Animal Science to recognize excellence in teaching, research or extension in the fields of genetics and physiology at the provincial, federal or international levels. This award is sponsored by the Semex Alliance.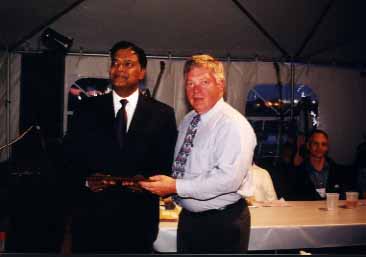 A UBC Prof. is getting this award second time after a gap of 10 years. The previous award winner at UBC was also a Thamil-Canadian and none other than our member, Prof. Emeritus, Dr. C. R. Krishnamurti! Our Congratulations to both of them!!
---
---
---
---
Tamil School Photos
---
Photos of Dr. Soni Marcus's Bharathanatya recital
---
Photos of Board of Directors
---
Back To Home Page